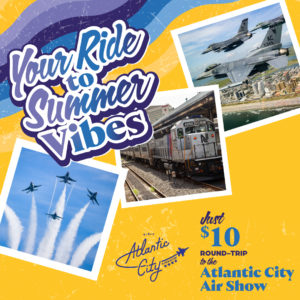 NJ TRANSIT is welcoming visitors to the Atlantic City Airshow on August 16th with additional rail service and an offer for half-priced train tickets in the NJ TRANSIT mobile app! Attendees can use a one-time promotional code in NJ TRANSIT's mobile app good for 50% off two one-way Atlantic City Rail Line (ACRL) tickets with an origin or destination of Atlantic City. NJ TRANSIT will also operate additional rail service on the ACRL to/from the Atlantic City Airshow, which will serve Philadelphia's 30th Street Station, providing an additional opportunity for attendees to travel to the airshow.
For additional information on NJ TRANSIT discounts to the Air Show visit njtransit.com/ac.
In addition to the Atlantic City Rail Line's regular weekday service, NJ TRANSIT will provide the following additional roundtrip service to/from Philadelphia.
Additional Service on Atlantic City Rail Line (8/16/23)
8:27 a.m. departure from Philadelphia arriving in Atlantic City at 10:05 a.m.
5:39 p.m. departure from Atlantic City arriving in Philadelphia at 7:26 p.m.
Travel Flexibility
ACRL tickets and monthly passes are honored at all times for service on Bus Route Nos. 551 and 554. Customers can also present rail tickets and passes to ride the jitney between the Atlantic City Rail Terminal and other local points of interest.
Military Discount and Child fares
Military Personnel and their dependents may use the one-way reduced ticket upon presenting their valid military or military-dependent ID cards. Eligible military personnel include Active Duty, Reserve, and National Guard, and those with official "Retired" status from the Army, Navy, Air Force, Marines, or Coast Guard. When purchasing your ticket from a ticket vending machine or through the NJ TRANSIT Mobile App, select Senior/Disabled to obtain the discounted fare. Veterans with service-connected disabilities may present a valid Veterans Affairs (VA) identification card that indicates "service-connected" to use the one-way reduced ticket option.
Children (ages 5-11) save 50 percent and up to three children (ages 4 and under) ride free with a customer paying any valid fare.
The Atlantic City Rail Station is just a few blocks from Atlantic City's free beaches and boardwalk, which will offer great views of the Airshow. The Atlantic City Airshow is free to the public, and events begin at 11 a.m. on Wednesday, August 16th.  For more information about the Airshow please visit https://airshow.acchamber.com/
Travel Tips
Purchase round-trip tickets in advance to avoid potentially long lines.
Use the NJ TRANSIT mobile app for a seamless experience.
Plan accordingly. Customers should familiarize themselves with NJ TRANSIT schedules and fares before starting their trip. To see the schedules and fare information, visit www.njtransit.com.
Customers should download the latest version of the NJ TRANSIT mobile app and customize service alert notifications available via push notifications.
Stay connected to NJ TRANSIT social media during your commute. Search for rail, bus, or light rail-specific Twitter accounts for the best information
About NJ TRANSIT
NJ TRANSIT is the nation's largest statewide public transportation system providing more than 925,000 weekday trips on 253 bus routes, three light rail lines, 12 commuter rail lines and through Access Link paratransit service. It is the third largest transit system in the country with 166 rail stations, 62 light rail stations and more than 19,000 bus stops linking major points in New Jersey, New York and Philadelphia.